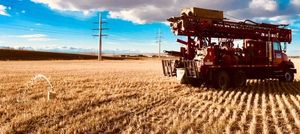 Call or Text: 403-652-6602  Email: doug@pnwwd.com
Real estate water well testing is very important. Doug Niemans has been testing water wells for 25 years, and has tested wells for Century 21, Remax, CIR, Redline, Royal Lepage, and many others. Wells can be tested using the existing pump and pressure system typically found in a house set up, or using a mobile pump trailer for vacant wells. Samples can be taken as per the clients specifications.
In addition to real estate, I have tested water wells where Oil and Gas giants like Exxon, Husky, Compton, and many others have been working nearby.Keeping the water safe for the well owner has been a priority of Peter Niemans Water Well Co. since 1971.
Every new water well is also required by Alberta Environment to be tested. When I drill a new water well, I am there the next day using my mobile pumping trailer to flow test and clean your new well. 
All together, Doug Niemans has personally tested over 2,500 wells. Trust the leader in well testing!