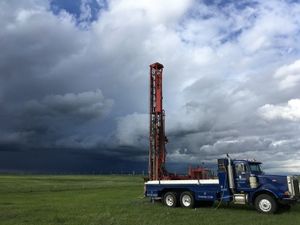 Call or Text: 403-652-6602  Email: doug@pnwwd.com
Peter Niemans Water Well Co. is a water well company in High River, Alberta.
Originally formed as Niemans Drilling in 1971, PNWWD continues to drill water wells in the Okotoks, High River, Calgary, Nanton, Millarville, Foothills area. Doug Niemans grew up working weekends alongside his father, and began working fulltime in 1997. In 2001 Doug became a journeyman water well driller after completing his education at Red Deer College.
Peter Niemans Water Well Co. does flow testing for water wells on real estate transactions, and also water well testing for oil and gas projects.
Peter Niemans Water Well Drilling has had many water well projects around Dewinton, including water well drilling, and real estate water well testing. 
PNWWD gives back to the communities of Okotoks, High River, Nanton, Blackie, and many others. PNWWD has had great success in the High River Little Britches Parade, and High River Santa Claus Parade. 
Peter Niemans Water Well Co. can answer your questions, such as:
What is the cost of a water well?
How much does a water well cost?
Where can I get a water well tested?
Who is a trusted water well company?
How much is a water well test?
Who can test my water well?
Call or text Doug Niemans at 403-652-6602 or email doug@pnwwd.com