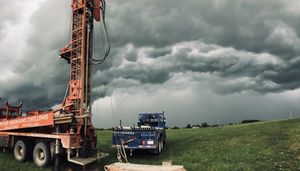 Call or Text: 403-652-6602  Email: doug@pnwwd.com
Peter Niemans Water Well Co. Water Well Company In Okotoks, High River, Foothills, Calgary, Nanton, Vulcan, Black Diamond, Dewinton. 
Frequently Asked Questions:
Q. Who can have water wells?
  A. Every household in Alberta has the right to a household use well up to 330 thousand gallons a year.
Q. Can I have a water well on my acreage, even if the subdivision says cistern only?
  A. In most cases yes, we may have to do some extra testing on the new well. The reason usually is because the developer did not want to spend the money to test the subdivision for water wells.
Q. How much work is it to maintain water wells?
  A. Very little, just a water test annually and shock chlorination if necessary.
Q. How safe is ground water?
  A. Ground water has always been the first choice for a safer and cleaner water source. Surface water such as rivers and dugouts; require much more cleaning and chlorinating for parasites. A water well is sealed and you cannot introduce bacteria as easily as you can with a cistern.
Q. Who governs and controls the quality control of water well drilling?
  A. We are licensed by Alberta Environment and trained under the apprenticeship program.
Q. What do I do if my water quits?
  A. Turn off the breaker and call Peter Niemans Water Well Co. 403-652-6602
Q. What is air drilling?
  A. Air drilling is just what it says. We drill using a large compressor to clean out the borehole. This is the cleanest and preferred method to drill water wells.
Q. What is an average well depth?
  A. Well depths vary quite a bit, but most fall between 100-300 feet in our area.